Welcome to the Scanner Academy
SUBSCRIBE NOW AND GET THE FIRST MONTH FOR FREE!
Do you also want to know more about what you can see on your scans of cows?
At the Scanner Academy we  offer online case studies, with diagnosis, scans, therapy and prognosis, performed by Dr. Giovanni Gnemmi from bovinevet internacional.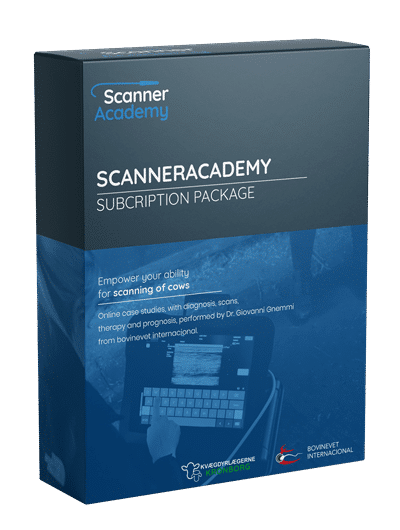 Scanner Academy
Online case studies
A new case study every two weeks.

Admission to all videos in the Academy as long as you're a member.

Frequent news mails with information about cases, how to's and do's and don'ts.

Inspiring tips how to use your scanner in the best possible way.

Discussion about therapy approaches.

You will be shown the effect of a chosen therapy.

Frequently quizzing your knowledge- what have you learned?

Twice a year live webinar with Dr. Giovanni Gnemmi.

Join our facebook group, where we will discuss scans, videos etc. among each other and with Giovanni.
Not convinced that this is for you?
Then try out our fabulous Scanner Academy for free for one month!
Yes, that´s right;, you can try out the Academy the first month, see all the case studies, and then unsubscribe if you don't like it.
Giovanni is a veterinarian who works for the Spanish company BOVINEVET
INTERNACIONAL Bovine Ultrasound Services & Herd Management and he's an associate
professor of bovine reproductive pathology at the veterinary faculty of the Catholic
University of Valencia (ES). Since 1993, Dr. Gnemmi has been working with
ultrasonography in cattle, trying to incorporate this method into herd management. Dr.
Gnemmi's fields of interest are reproductive management (ultrasound diagnosis of
embryonic death, follicular dynamics, synchronization programs, uterine ultrasound,
transition management, filed application of color Doppler), preventive medicine, and
continuing education of farm and veterinary workers. In these areas of expertise, he has
developed international experience, both as a consultant for large and very large dairy
farms in Europe, South America, China, the Middle East and as an instructor in more than
300 training courses around the world. He is the author of 2 atlases on bovine reproductive
ultrasound (Le Point Veterinaire 2004, French version MEDCOM 2010, English version
Blackwell 2011). He has numerous publications, many of them in peer-reviewed journals,
and has presented approximately 280 invited lectures at national and international
conferences.
A strong collaboration between